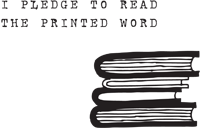 I have always been a voracious reader, the kind who doesn't want to put a book down until it's finished. I was the little girl who read aloud to my kindergarten class, stayed up past bedtime to read Laura Ingalls Wilder, systematically devoured my father's science fiction collection, and always tried to read in the car even though it made me car sick. I now average a couple books a week (according to my library history, I've read forty books in the last four months!) thanks to ninety minutes of daily reading time on the subway (another bonus of public transportation over car commuting). On days when I'm without a book, my train ride seems unbearably boring.
I love the thrill of carrying home books, stacking them on my bedside table, and flipping through the pages. Unlike some people who read electronically via kindle and rarely finish the books they start (I don't get those people). So of course it was easy for me to join
esb
&
cevd
's campaign to
read the printed word
, to make sure we're still reading real books in this age of increasingly shorter electronic communication.
I've read a lot of mediocre books lately (I don't understand how publishers can afford to throw book deals at every tom-dick-and-harry blogger, resulting in a sea of nothing-more-than-adequate books that can't be making much in sales). But here are a few diamonds in the rough that I recommend - books that are worth the risk, as
Amanda of First Milk
puts it so eloquently, of "walking into another land and coming back changed, or not ever quite returning at all."
Her Fearful Symmetry by Audrey Niffenegger
I really, really loved
Time Traveler's Wife
, and I'm not sure that story can be topped, but Audrey Niffenegger's second novel,
Her Fearful Symmetry
, is another well-written supernatural love story. This book pulled me in with its tales of sisters, ghosts, and romance, frought with mysterious twists and turns and a haunting ending.
The Year of the Flood by Margaret Atwood
Margaret Atwood has invented with brilliant detail a dystopian post-apocolyptic reality that serves as a warning to humanity and keeps you reading to the end to see what hope lies ahead. It runs in tandem with its companion book,
Oryx & Crake
, but I liked
The Year of the Flood
and its sympathetic characters better. I must also thank
agirl
for getting me on this Atwood kick.
Comfort Me With Apples by Ruth Reichl
Comfort Me With Apples
tells the beginning of Ruth Reichl's career as a restaurant critic, alongside the dissolution of her first marriage and the passionate start of her second. Her talent for writing about food and life with relish make it clear why she became a successful food writer. She has written other memoirs, which I will now add to my library list.
The Dispossessed by Ursula K. LeGuin
This is an old favorite of mine. It had been so long that I forgot how the story ended and it was like rediscovering the book all over again; I love it when that happens.
The Dispossessed
is technically science fiction, but it is so much more than that - it is actually a captivating comparison of an anarchist/communist society versus a capitalist society that fully explores anarchy's capacity for utopia as well as its pitfalls.
"You have, we do not have. Everything is beautiful here. Only not the faces. On Anarres nothing is beautiful, nothing but the faces. The other faces, the men and women. We have nothing but that, nothing but each other. Here you see the jewels, there you see the eyes. And in the eyes you see the splendor, the splendor of the human spirit. Because our men and women are free - possessing nothing, they are free. And you the possessors are possessed. You are all in jail. Each alone, solitary, with a heap of what he owns."
Have you taken
the pledge
yet? And have you read anything good you'd like to share?